I'm linking up with Mrs. Carroll over at
The First Grade Parade
for her Meet the Teacher linky party.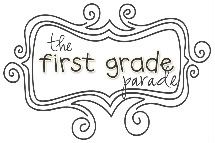 A little about me...
I'm 29...pushing 30 in a few short months. I graduated from the University of Toledo in 2003 with a degree in early childhood education. I started teaching right out of college at the elementary school I attended as a child. I taught kindergarten for two years there before moving to be with my then boyfriend (now husband). After moving, I subbed for a year, mostly in 5th and 6th long term positions. The following year, I was hired to teach kindergarten. A year later, I moved to first grade and have been here ever since. This is my eighth year teaching and I LOVE MY JOB! I completed my Masters of Arts in Education from Walsh University in 2007. In the future, I'd love to work on getting my national board certification.
I've been married for 4 1/2 years to a wonderful man. We met at UT when I was a freshman and he was a senior. We don't have any children yet, but pray that we will be blessed with a house full of children some day soon. We love to travel, eat great food, and work on our mid-century ranch.
Ok, on to the questions...
Q: What would you be doing if you weren't a teacher?
A: I absolutely, positively love to decorate. I'd love to help people decorate their homes on a budget.
Q: What are your hobbies?
A: Well...decorating and DIY, cooking, gardening, sewing, crafting. Does teaching count as a hobby?
Q: When you were little, what did you want to be when you grew up?
A: A TEACHER! My mom's a teacher and would bring home old bulletin board sets for me to hang in the basement. My poor brother suffered many a summer's day pretending to be my student.
Q: What are your guilty pleasures?
A: Diet Coke, Real Housewives (New York and New Jersey), cupcakes
Q: What's your biggest fear?
A: hmmm...that's a tough one. I guess it would be losing a loved one, especially my husband or parents.
Q: When you're on vacation, where do you like to go?
A: Well, we love Jamaica. Headed back this summer...woot! We've also been to Lima, Peru and are looking forward to going back (my brother and his wife are missionaries there).
Q: What's the best advice you've ever received?
A: Trust in God's plan for your life and pray for Him to guide your paths.
Q: What do you value most in others?
A: Sincerity and honesty.
Q: If you could choose one of your personality traits to pass down to your kids, what would it be?
A: I am a big thinker. I want my kids to think big and know that they can do anything they set their minds to.
Q: If you could have lunch with anyone in the world...living or dead...who would it be?
A: Well, my answer sort of depends on the day. Right now, I'd have to say my mom. We live about three hours apart, so I don't get to see her too often. I'd love to be able to sit down and have lunch with her on a random weekday.
Something random: I took piano lessons for 10 years and taught lessons as my job through college.